Projects
Indian classical music - esraj and tabla
Indian classical music - esraj solo
Damaru - Kathak Dance & Live Indian Music
Jugalbandi - Sitar and esraj
---
Dr. Jibendra N. Goswami - sitar
Elena Kubickova - esraj
Mani Shankar Tripathi - tabla

Jugalbandi (duet) of the plucked and the bowed Indian instrument
Dr. Jibendra Narayan Goswami - Sitar Maestro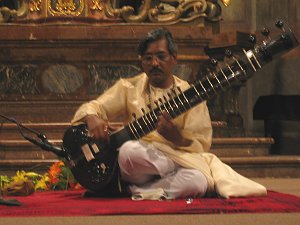 Was born in the family of musicians on April 24,1959 at the holi city Varanasi. He initiated in the art of playing sitar from his elder brother Shri Rabindra N.Goswami, an eminent sitar and surbahar player of international repute. Dr J.N.Goswami pursued in the field of instrumental music (sitar) and completed his doctorate of music from Benaras Hindu University,Varanasi. Thereafter he joined a reputed college, Vasanta College for women, Raj Ghat, Varanasi (Krishna Murty Foundation, India) and is working as a Reader in Instrumental music. He is an artist of All India Radio,Varanasi since1995. He has achieved the 1st prize in U.P. State Sangeet Academy Competition.
Presently he is receiving guidance from Shri Shujaat Khan, son of the legendary sitar wizard Ustad Vilayat Khan, who with his melodic ideas and aesthetic sensitivity is giving him the golden touch in his developments in sitar techniques.
Dr. Goswami is widely performing in India and abroad, like Germany, Belgium, Finland, France, Izrael, Spain etc. He also performed in Prague and on the International Opera Festival Smetana's Litomysl (jugalbandi with E. Kubickova – esraj).
Mani Shankar Tripathi - tabla
Started tabla at the early age of 6 from his fater Pt. Ravi Shankar. Later he continued learning from one of the great tabla player of Benaras Gharana, Pandit Kaviraj Ashutosh Bhattacharaya as his disciple and learnt for 20 years with perfection.Right now Mani Shankar is an artist of All India Radio, Varanasi. He performed succesfully many concerts in India and abroad.
Elena Kubickova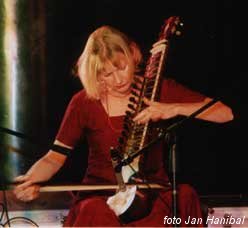 studied classical violin under Gita Morenova, professor of the Prague Conservatory, after which she was a member of a string chamber orchestra for several years. She was educated in northern Indian classical music by violinist and musicologist prof. Dr. Smarajit Chakravorty, in India she studied under Dr. Jibendra Narayan Goswami (sitar maestro) and Dr. V. Balaji (singer and violinist, prof. of Hindu University in Benares). She has played the esraj since 1990. Together with other musicians she released several CDs of which several have been used as film music, for example for the three-part film by Igor Chaun "A Passage to India". She takes part in various festivals, e.g. Boskovice, Frýdek Místek, Lipnice, Alternativa (Theatre Archa), Febiofest (International film festival, Prague), One World (International documentary film festival, Prague) and has performed in Prague in a programme by the classical guitarist Lubomír Brabec at the Spanish synagogue. She has also appeared in Poland and Italy (International music Festival in Ferrara 2004). She collaborates with an important Czech tabla player Tomáš Reindl, Edward Powell, a Canadian sitar player living in Czech Republic and other musicians. The biggest honour for her is the collaboration with Dr. J. N. Goswami, with whom and his Indian tablaist she performed Jugalbandi in Prague (2005, 2006) and at the International Opera Festival Smetanova Litomysl in 2006. She regularly gives concerts of northern Indian classical music in many places of the Czech Republic. Elena also takes part in joint music-and-dance project DAMARU launched by Ivana Hessová, dancer and instructor of classical Indian dance kathak. For several years she has been preparing regular night programs of Indian classical music on the Czech National Radio Station "Vltava".
---